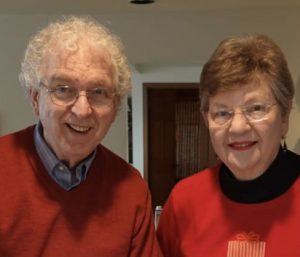 It's all in the family at St. Catherine's Village, where sisters Nancy Gilbert and Carolyn Cooper are following in their mother's footsteps by living in the all-inclusive Life Plan Community in Madison, Mississippi.
Nancy and her husband Spencer moved to St. Catherine's Village first. About five years ago, the couple retired to an independent living apartment from Jackson where Spencer had practiced law. They were already familiar with the community because they both had loved ones who had lived at St. Catherine's Village before. In the early 1990s, Nancy's mother had experienced multiple levels of care, initially moving into independent living then transferring to Marian Hall assisted living and finally Siena Center skilled nursing. Spencer's father lived in Siena Center from 2000 to 2002.
"My dad was not here as long as Nancy's mother—only for about two years in skilled nursing—but the care he received was outstanding," said Spencer. "We had tried a few other places to accommodate dad's unique situation and St. Catherine's Village really was the best."
"We always knew that when the time was right for us, we'd move to St. Catherine's Village, as well," said Nancy, adding that the couple was so impressed by the care their parents had received that they never considered moving anywhere else for their retirement years.
"Our children are far away—one is in Seattle and one is on another continent—so we didn't have family locally," she continued. "I became so accustomed to driving from our home in Jackson to St. Catherine's Village to see my mom that after she was gone, my heart would still lead me in this direction."
In fact, Nancy started volunteering at Siena Center in 1999, singing hymns at Campbell Cove for residents in memory care. After moving in in 2017, she was able to expand her volunteer work on campus.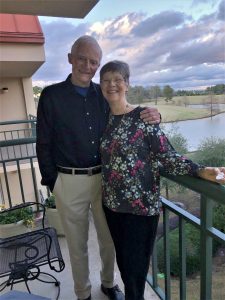 Joining her in her musical volunteer work was Bill "Slim" McCulloch, a musician who played for the skilled nursing residents and during happy hours. Born in Chicago, Slim grew up in Washington, DC, then came back to Chicago in the 1960s to launch a career in print journalism. Working in Michigan, Massachusetts and eventually North Carolina, Slim also moonlighted as a blues musician. He met Carolyn, Nancy's younger sister, in Chapel Hill, North Carolina when they were both in their 50s.
"We hit it off immediately and have been partners ever since," he explained. "We knew pretty early in our relationship that we wanted to retire to a Life Plan Community but the financial crisis of 2007 pushed out our prospective date to move. After seeing how happy Nancy and Spencer were at St. Catherine's Village, we took another look in 2019 and realized we could afford it."
Slim and Carolyn found the right fit in a cozy, third-floor independent living apartment that overlooks one of the lakes at St. Catherine's Village.
"What appealed to me the most was the beauty of the place," said Carolyn. "The apartment was completely renovated and is aesthetically very pleasing but I adore the gorgeous grounds—there are 160 picturesque acres and it has a real college campus feel."
And, she remembered how comforting St. Catherine's Village was, especially at night.
"When I used to come and visit my mom, then when Nancy and Spencer moved in, sometimes I'd stay in a guest room," she said. "Walking down to their independent living apartment I always felt so safe and secure."
Carolyn, a former nurse, and Slim continue to appreciate the level of care they receive.
"We've both had medical emergencies and nurses responded immediately—as did security," she explained. "Everyone was just marvelous and when Bill took a tumble, it was a great comfort to know that such a high level of service is offered."
Carolyn and Nancy grew up about 40 miles away in Yazoo City, but Carolyn moved away and eventually came back to live closer to her son.
"It has been such a joy to be here with my sister," she said. "We fought as kids and never dreamed we'd so happily share this stage of our lives."
"Being a resident here has given us a feeling of security that will carry us right on through because no matter what level of care we need, we know we'll get it and be well served," said Nancy.
Madison's pre-eminent all-inclusive Life Plan Community, St. Catherine's Village is the first retirement community in Mississippi to earn accreditation by CARF-CCAC. This "commitment to excellence" seal signifies that the campus exceeds the standards established by the only international accrediting body for CCRCs. Living options include independent living in apartments and garden homes, assisted living in Marian Hall, memory care in Campbell Cove and Hughes Center, and skilled nursing in Siena Center and Tuscany.
https://stcatherinesvillage.com/wp-content/uploads/SpencerNancyGilbert.jpg
418
488
admin
https://stcatherinesvillage.com/wp-content/uploads/logo-website-2019.png
admin
2021-03-05 13:30:56
2021-03-05 13:30:56
Families Get Closer By Spending Their Retirement Years At St. Catherine' Village