St. Catherine's Village has announced that skilled nursing dedicated to memory care now is available at the all-inclusive Life Care Community in Madison, Mississippi.
This living option allows residents with dementia or Alzheimer's disease to age in place more comfortably, according to Mary Margaret Judy, executive director at St. Catherine's Village.
"When a loved one is faced with advanced memory challenges, the last thing you want is to disrupt their routine and force them to move," she said. "At St. Catherine's Village, they can remain in a familiar setting even as their disease progresses."
A total of 24 private bedrooms with in-room showers are available for this new living option, which combines person-centered memory care with skilled nursing services. The first to take advantage of the opportunity is long-time St. Catherine's Village resident Robert "Dan" Burt. High school sweethearts who have been married for 58 years, he and his wife Jeanelle initially moved into an independent living apartment 10 years ago. She still resides there today.
"We had a friend who lived at St. Catherine's Village and we would come visit, so we were familiar with the community," Mrs. Burt explained. "One day, my husband started to show signs of memory loss and soon after was diagnosed with dementia. I did a great deal of research and everything I read said that moving into a Life Care Community was a excellent option because it would be less disruptive for him to stay in one place as his memory issues advanced."
That's when the couple decided to move to St. Catherine's Village.
"I wanted a one-bedroom apartment that had a big closet and a balcony overlooking the lake," she said. "One was available so we signed the paperwork right away and put our house on the market. Amazingly, we sold and closed within a month."
The Burts had been in their independent living apartment for five years when the caring staff at St. Catherine's Village noticed that Mr. Burt's routines were changing. One day Mrs. Burt knew it was time to move him to the community's memory care facility, Campbell Cove.
"We transitioned him gradually. At first, Dan and I would go over to Campbell Cove and listen to hymns then go back to our apartment. We began, occasionally, letting him eat lunch there without me. He also would stay an hour or so while I attended some of the many seminars St. Catherine's sponsors here at the Village. All this allowed Dan to become familiar with the property and living areas," said Mrs. Burt. "Finally, we moved his belongings over into a room at Campbell Cove while he was at lunch. He didn't want to stay but the staff reassured me: 'Give us three weeks and he will be fine.' Sure enough, almost three weeks to the day, he felt safe and secure in his new surroundings."
She continued, "During this time, I could visit him whenever I wanted to, which helped me with the separation. Because my apartment is in the complex next door, this was easy for me to do. After more than 58 years of loving him, I'm reassured to know he is being well cared for. In fact, I have the privilege now of going over every day to assist him with lunch and supper."
A move to another area of St. Catherine's Village was on the horizon two years later when Mr. Burt experienced more traumatic health issues. After approximately two weeks in the hospital with serious complications from blood clots, Mr. Burt transferred to Siena Center, the skilled nursing section of St. Catherine's Village.
"I really wanted him to go back to his room at Campbell Cove but we knew he needed a higher level of care than what was available there," said Mrs. Burt. "The round-the-clock-care at Siena Center was what he required."
While in skilled nursing, Mr. Burt's health improved; however the staff at the nursing home was not specialized in the nuances of caring for with those with dementia.
"Dementia patients live in their own world, not in ours," Mrs. Burt said. So when the plans for skilled nursing dedicated to memory care were unveiled, the Burts immediately expressed their interest. "Dan was the very first resident to move in."
Mrs. Burt describes the atmosphere as calm, serene and peaceful.
"No matter how distressed one might be, when they come into this environment they are soothed," she explained. "The staff is amazing. They are always doing things to make Dan comfortable. They pamper me, too. I actually feel better when I leave knowing he is in such qualified hands."
She gave accolades to everyone at St. Catherine's Village—from executive director Mary Margaret Judy to the nurses and CNAs on the floor every day to the housekeeping staff. They are all gifted in what they do.
"There is a standard of care here at St. Catherine's Village that is well above any other place I have seen," she said. "You can see the dedication and compassion on their faces."
One might expect this exceptional level of care to be unattainable; however, Mrs. Burt noted that she and her husband held modest jobs before they retired and they were able to move to St. Catherine's Village within its all-inclusive Life Care program. He had been a fireman and she had been a city clerk/stenographer.
"Everyone here, regardless of background, is treated the same way," Mrs. Burt said.
The seamless care Mr. Burt receives has been noticed by Mrs. Burt's family, as well. She is happy to say that her sister Norma Ruth and her husband Parham Williams are now residents of independent living.
"We wanted to move while we were still in good health," her sister said.
In addition to the skilled nursing dedicated to memory care, housing options at St. Catherine's Village include independent living in apartments and garden homes, assisted living in Marian Hall, memory care in Campbell Cove and Hughes Center, and skilled nursing in Siena Center. St. Catherine's Village is the first all-inclusive CCRC in the state to earn accreditation by CARF-CCAC. This "commitment to excellence" seal signifies that the campus exceeds the standards established by the only international accrediting body for CCRCs.
The all-inclusive life care community also offers 160 acres of wooded grounds, unparalleled facilities, a caring staff, companionship, 24-hour on-duty security, protected and beautiful outdoor spaces, access to on-site resident-centered care, and a mission-focused environment that encourages residents in all levels to enjoy fullness of life, health and faith.
St. Catherine's Village is a service of St. Dominic Health Services, Inc. and is sponsored by the Dominican Sisters of Springfield, Illinois, who have owned and operated the hospital since 1946. The private, gated community provides the right care at the right time for those in their retirement years.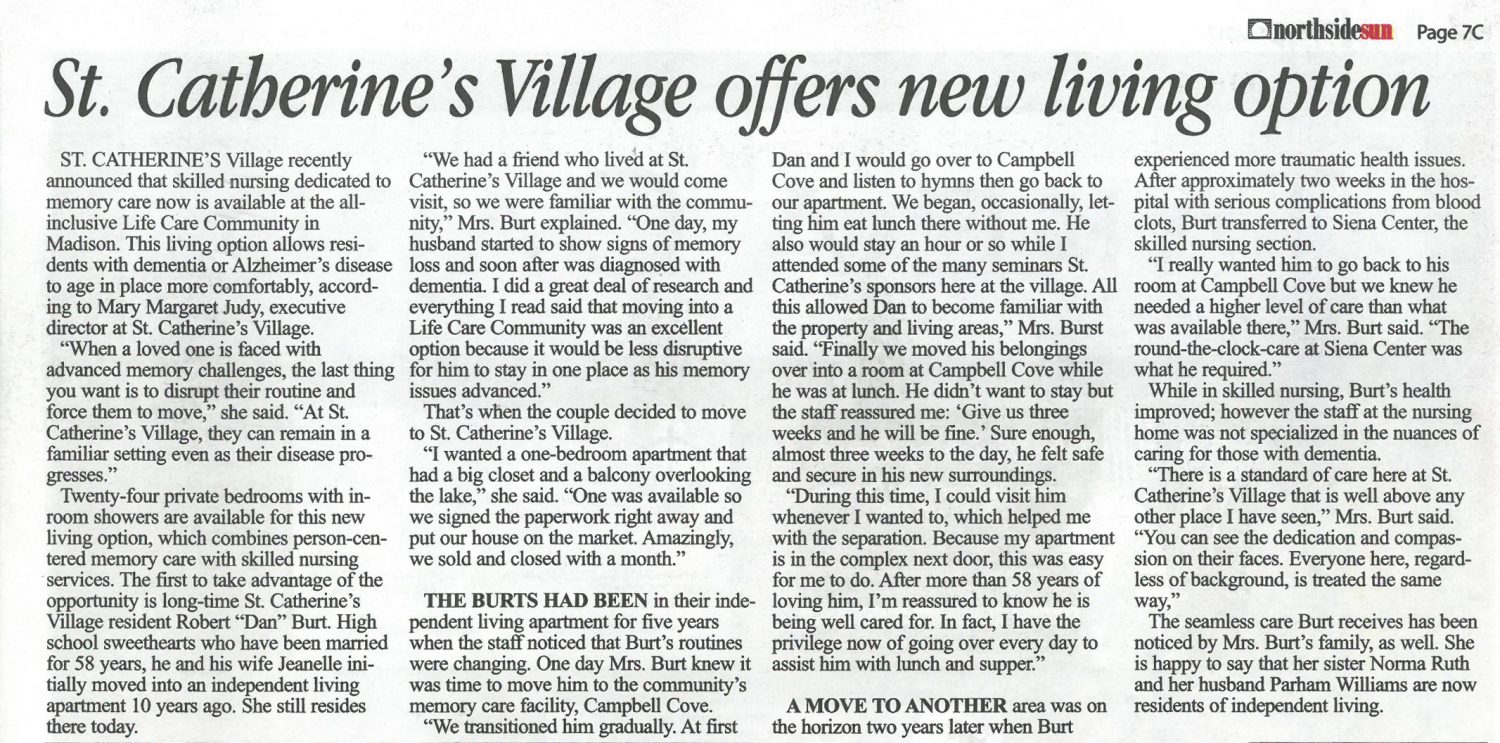 https://stcatherinesvillage.com/wp-content/uploads/StCatherinesVillage_MrsBurt.jpg
1056
2133
admin
https://stcatherinesvillage.com/wp-content/uploads/logo-website-2019.png
admin
2017-06-02 10:39:18
2018-07-30 00:33:50
Skilled Nursing Dedicated To Memory Care Now Offered At St. Catherine's Village