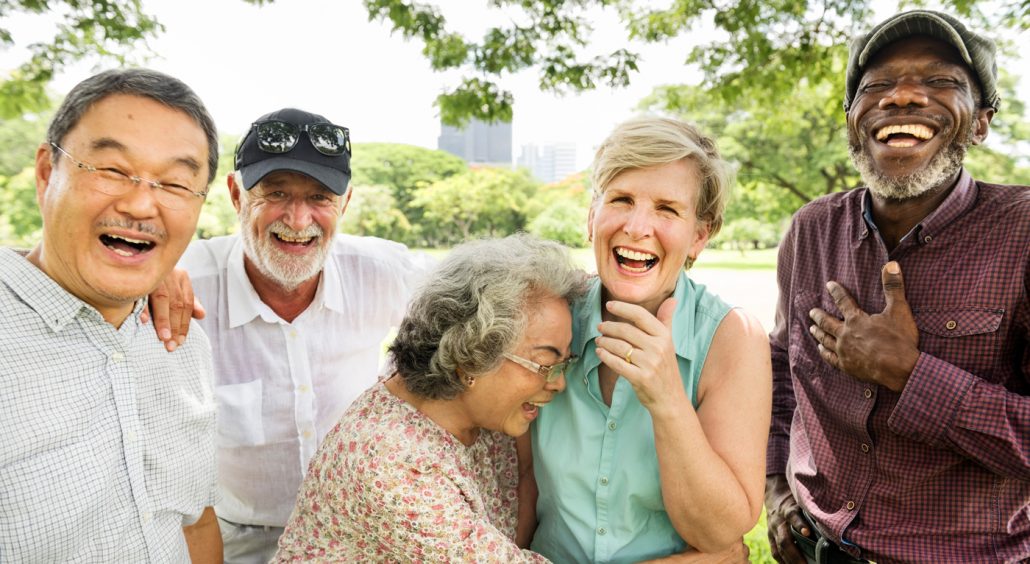 Results published in "The Age Well Study" show multiple benefits for seniors who live in Life Plan Communities. Also known as a Continuing Care Retirement Community (CCRC), a Life Plan Community is an age-restricted property that includes multiple levels of care—independent living, assisted living and skilled nursing—on one campus.
The recently released study was commissioned to understand the impact of living in a Life Plan Community on residents' health and wellness. It compares outcomes for seniors who live in such an environment to those who don't.
Gerontologists agree that both personal and environmental resources are important to aging well, saying that "it is the unique combination of personal competence and environment that determines an individual's optimal level of function."
Respondents in "The Age Well Study" reported that their social, intellectual, physical, and emotional wellness improved after moving to a Life Plan Community.
Residents living in a Life Plan Community have more social contact and feel less lonely.
It's no wonder, with the variety of activities and programs these communities offer. At St. Catherine's Village, for example, each segment—independent living, assisted living, memory care, and skilled nursing—has a full calendar of activities for residents each month. These range from daily devotion for spiritual enrichment to mixers and events that encourage interaction. Residents also can participate in arts, crafts and painting classes or join clubs like the gardening club or Happy Stitchers. These activities help build camaraderie and give residents a strong sense of community belonging. Overall, research suggests that higher levels of social support and lower levels of loneliness are directly related to improved well-being.
Access to educational programs helps keep Life Plan Community residents intellectually engaged.
Keeping the mind active is just as important as keeping the body active—especially for seniors. Learning new things, attending cultural events and engaging in intellectual activities all contribute to better memory and slower cognitive decline. Residents in Life Plan Communities are more likely to participate in these activities…in part because they are readily available. St. Catherine's Village, for instance, hosts several educational events including the Nourish Your Noggin series of workshops that present the latest research and information on brain health and aging. Residents can learn a new language by taking the beginner Spanish class. Plus, day trips to theatrical shows and concerts as well as off-campus excursions are planned.
Life Plan Community residents have better physical wellness.
Staying active, eating healthy, sleeping well, and taking care of oneself are the major influences contributing to overall physical wellness. Studies have shown that being sedentary for too long during the day can increase the risk of mortality for people as they age. And it's easy for seniors living on their own to succumb to bad habits, especially if no one is around to encourage them to get up and get moving. At a Life Plan Community, on the other hand, there are activities for seniors of all fitness levels.  St. Catherine's Village not only has an on-site fitness center and heated indoor pool, it also offers a variety of exercise classes to support a healthy lifestyle. These include stretching, chair yoga, low impact cardio, water aerobics, and more. Like all Life Plan Communities, St. Catherine's Village provides nutritious dining options, too, making it easier for residents to eat well. A healthy diet rich in nutrients can help cognition and memory in seniors as well as feed the body.  When a Life Plan Community resident does experience a health issue, he or she has access to treatments and caregivers trained in senior living.
Residents in Life Plan Communities are emotionally healthier and are more optimistic and satisfied with life.
Stress is a major factor contributing to one's attitude and overall outlook on life. Residents in Life Plan Communities reported low levels of stress—indicating they feel capable of handling challenges that come their way. Part of the reason these individuals may have low stress levels is because they are surrounded by a support system night and day. In addition to being around others in the same stage of life going through similar experiences, they have the assistance of caregivers in times of need. Most Life Plan Communities also offer classes and seminars on topics facing seniors. St. Catherine's Village is home to a Parkinson's support group that is open to the public as well as residents. Residents can join the choir, watch movies together, and play organized games to increase their happiness and reduce their stress.
The biggest take away from "The Age Well Study" is that Life Plan Community residents had more favorable average scores on all measures of physical, social and intellectual wellness. This may be because Life Plan Communities tend to offer environments rich in services, programs, amenities, and opportunities that support overall health and well-being.
The all-inclusive Life Care program at St. Catherine's Village allows residents to move into an independent living apartment or home then transition to more intensive care—assisted living, memory care and skilled nursing—as the need arises. Life Care residents are guaranteed services throughout their lifetime.
Learn More About The Life Care Program At St. Catherine's Village 
https://stcatherinesvillage.com/wp-content/uploads/iStock-618069482_lowres2.jpg
766
1400
admin
https://stcatherinesvillage.com/wp-content/uploads/logo-website-2019.png
admin
2019-02-18 10:01:39
2019-02-18 10:01:39
Study Shows Life Plan Communities Enhance Seniors' Overall Health And Well-being